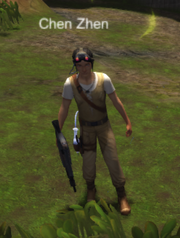 Chen Zhen was the weapons expert on the colony ship.
Storyline
Edit
Chen Zhen is first encountered at the meteorite crater. He provides the storyline quests Time to Dig, Go to Giant Tree, Go to Giant Tree Again, Danger in the Sky, and Camp Defense. He also provides the optional quests Catapulting and Monster Beacon. 
Chen Zhen is the first source of ranged weapons, including Handguns and Bows. He also has scripts for bronze and iron tools, and the hunter outfit.