Common Name:
Gold Dragon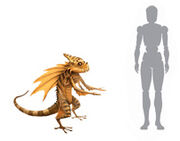 Scientific Name:
Gold Dragon
The Gold Dragon is smaller than the average human and
appears to be an aquatic primate with gold and black stripes.
==Behavior==
The Gold Dragon will not attack unless provoked.
It is mainly found in the forests of Maria, though sometimes they can be spotted
on their way to or from a water source.
It is solitary.

==Hunting==
It has a small amount of HP, making it easy to kill.
However, like the Gibbon, it will throw rocks in order to protect itself.
When killed, it drops a small quantity of meat.
Ad blocker interference detected!
Wikia is a free-to-use site that makes money from advertising. We have a modified experience for viewers using ad blockers

Wikia is not accessible if you've made further modifications. Remove the custom ad blocker rule(s) and the page will load as expected.