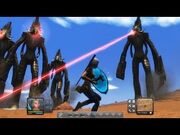 Help Peter
As the main story progress you will get a mission to destroy emiters.
In this mission you must destroy Emanation tower C, which is guarded by 3 giant robots.
Mission description
Edit
This is hard mission. To made it you first need to speak with Peter only then you can destroy robots. He is crouching near a tree. Look in the South East from the 3rd tower. He gives you 2 plasma cannons and 3 missile turrets.
How to complete?
Edit
There are some working technic depends of what you prefer. You can use some vehicle with strong weapons. Some as GTC Medusa http://isoplanetexplorer.com/iso.php?id=42
Simper method is use a turrets. Build some blocks to place the turrets, place 2 plasma cannons and 3 missile turrets and lure robots in range of turrets.
After robots are gone simply destroy Emanation tower C.
Ad blocker interference detected!
Wikia is a free-to-use site that makes money from advertising. We have a modified experience for viewers using ad blockers

Wikia is not accessible if you've made further modifications. Remove the custom ad blocker rule(s) and the page will load as expected.