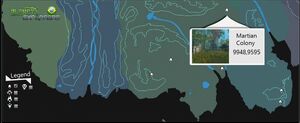 Quest from Ataro Battar.
Take Rol Olympus from Earth Camp to Martian Colony (marked on your map).
Once you get there there will be a conversation with Martian governer and the quest will be completed.
Tips and tricks
if you have a flying vehicle with more than 3 seats, you can take Rol there using the vehicle this will speed things up.
Ad blocker interference detected!
Wikia is a free-to-use site that makes money from advertising. We have a modified experience for viewers using ad blockers

Wikia is not accessible if you've made further modifications. Remove the custom ad blocker rule(s) and the page will load as expected.