Main Story
Edit
Mission in chapter can be not in correct order.
Chapter One - Crash Site and Camp Carter
Edit
Chapter Two - The Crater
Edit
Chapter Three - Rock Formation
Edit
Chapter Four - The Forest and The Martians
Edit
Chapter Five Desert City (code name)
Edit
Chapter Six
Edit
Going North (aka Survivors of the North) 
END of 0.752 version of game.
Tips and tricks
Edit
For many escort quest you can use vehicles if they have more than 3 seat. NPC can use them this will help a lot to speed thinks up.
Interactive map of playable game world (version 0.752)
Edit
Planet Explorers Interactive Map by Planet Explorers Brasil http://planetexplorers.besaba.com/Arquivos/mapa.html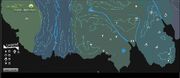 Side Quests
Edit
Nan Yang

Edit
Hitomi Amasawa
Edit
Ad blocker interference detected!
Wikia is a free-to-use site that makes money from advertising. We have a modified experience for viewers using ad blockers

Wikia is not accessible if you've made further modifications. Remove the custom ad blocker rule(s) and the page will load as expected.